Uprox+ Sensor Q40 integrated into a stamping press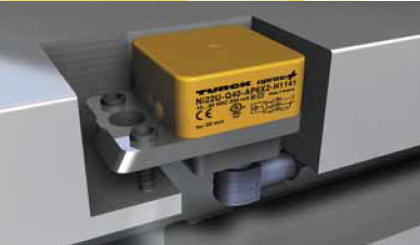 The height adjustment feature of the Q40 is used to align the switch thus saving additional steps, such as an adjustment of the mounting surface. Also the switch-point can be easily adjusted to the optimum target position. The operating distance is easily and precisely set also in the recessed mounting mode using a countersunk screw without having to remove the switch. All these factors contribute to cost savings compared to conventional solutions: less proximity switches are needed, material machining is superfluous and mounting procedures are simplified. Highly visible LEDs ensure reliable function and adjustment control in all mounting modes. When replacing a defective proximity switch, the original setting of the operating distance is retained.
Uprox+ Sensor TS12 replaces a range of ring sensors


The small parts feeding procedure in assembly and handling applications must be monitored e.g. that the screwing robot is loaded exactly with one screw. If no screw is fed, the work piece may be damaged or not properly assembled. If two screws are fed, then the screw robot may be damaged. This application was solved previously with ring sensors, but these are difficult to mount and different ring sensors are needed for every tube diameter.
Due to the new Uprox+ printed coil technology, it is now possible to detect tube-guided small parts reliably from the side. The tube sensor TS12 is a replacement for the large variety of ring sensors. Only a single sensor is needed to solve all applications involving various tube diameters. The simple retaining strap saves additional brackets and the sensor can be mounted after final installation of the feeding tube.